The Imbali Way Of Raising And Training Your Ridgeback Puppy
Imbali News
2001 - 2002 - 2003 - 2004 - 2005 - 2006 - 2007 - 2008 - 2009 - 2010 - 2011 - 2012 - 2013 - 2014 - 2015 - 2016 - 2017 - 2018 - 2019 - 2020 - 2021
has puppies
| | | |
| --- | --- | --- |
| | | |
| 8 July 2006 - Sura with her newbourn pups | | Puppies at 2 weeks of age |
Sura was mated to Kip () and produced 9 puppies on 8 July 2006, 4 dogs and 5 bitches, unfortunetly one bitch puppy was stillborn. All puppies where ridged and the litter was sinus free. Being a maiden bitch, she has taken to motherhood brilliantly. All puppies are now walking aound and beginning to play with each other.
Our "Puppy Page" contains a brief diary of the first few weeks with photo's and a short video clip.
---
Kiera wins Junior Stakes
At Blackpool CH Show Kiera () won the PetPlan Junior Stakes Daily Qualifier under judge Liz Stannard. She competed in the largest heat of the three days (Hound and Gundog day). This meant an overnight stay for us in Blackpool for the finals the following day. She ended up runner up to the overall winner.
---
Kiera gains her Junior Warrant Title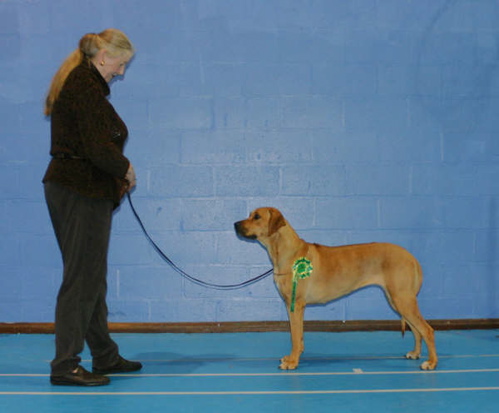 On Easter Monday, Harvesttrail Kiera of Imbali ( x Knockeen Kosevo) gained her Junior Warrant at the age of 12 months at the Nuneaton Show under judge Anthony Rees, she then went on to win the Hound Group.
---
UK, FCI INT CH Imbali Azizi has puppies
On 10 March 2006, Zena produced three puppies (1 dog and 2 bitches). We were very privileged to be able to use frozen semen from SA & ZIM CH Globe's Roving Red Regent (Clay) who died several years ago. He was an outstanding Ridgeback and multi Best In Show winner as well as one of the top winning brown nose Ridgebacks in the history of the breed.
He won 56 BOBs and 18 CCs, Top Ridgeback in South Africa for 1992, No. 4 of ALL breeds in South Africa in 1992, Top South African Ridgeback for 4 consecutive years and sired 25 Champions during his lifetime. Zena's litter is the only UK litter sired by Clay.
Imbali Kelele (Kele) now lives with the rest of the Imbali hounds. The dog puppy lives nearby and visits regularly.
| | | |
| --- | --- | --- |
| | | |
| Imbali Kelele | | Imbali Bakari |
---
Harvesttrail Kiera of Imbali WINS BEST PUPPY AT CRUFTS 2006
| | |
| --- | --- |
| | |
| BOB, RBOB and Best Puppy | Kiera with the Otavi Salver |
Kiera ( x Knockeen Kosevo) won the Special Puppy Bitch class at Crufts this year then followed this by beating the dog puppy for Best Puppy. She was presented with the "Otavi Salver" which she holds until Crufts 2007. Kiera will be 12 months of age on 20 March and this win brings her puppyhood to a wonderful close. Her first show was the Southern Rhodesian Ridgeback Open Show in October 2005 where she went Best Puppy in Show, she qualified for Crufts at LKA under breed specialist Pat Thorne and at Manchester won Puppy Bitch, Junior Bitch then Best Puppy under breed specialist Sharon Rossiter. She has also won several Best Puppy, Hound Group Puppy and Best of Breeds at Open Shows and recently went Best Puppy in Show at Slough Open Show.

She now has 21 points towards her Junior Warrant, hopefully the final 4 won't be too elusive!
Here is what the Crufts' judge, Ben Reynolds-Frost, has to say about Kiera in his Dog World write up:
"Special Puppy Bitch - BP, Craigie's Harvesttrail Kiera of Imbali, just love this puppy having already awarded her a BPIS at an open show. I feel she has a great future. Excellent in many departments, excels in head with well shaped eye of good colour and correct ear placement, strong neck, correct front & right amount of bone, excellent topline, floats around the ring on the move, stood out in this class."