The Imbali Way Of Raising And Training Your Ridgeback Puppy
Imbali News
2001 - 2002 - 2003 - 2004 - 2005 - 2006 - 2007 - 2008 - 2009 - 2010 - 2011 - 2012 - 2013 - 2014 - 2015 - 2016 - 2017 - 2018 - 2019 - 2020 - 2021
TOP AWARDS AT SRRA AGM
At the SRRA 2002 AGM we won three of the four trophies on offer:
The Champion Mirengos Mandambo Trophy for the outstanding dog of the year
The Champion Matabelle M'Kangazi Trophy for the outstanding bitch of the year
The Rose Baily Memorial Trophy for Breeder of the year
---
SUCCESS IN FRANCE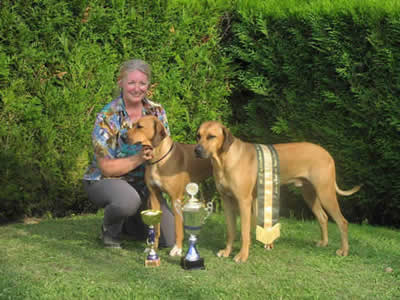 1 CACIB, 1 CAC, 2 RCACs, BD & BOS/RBIS
Friday 13 September 2002 saw us on a ferry bound for France for our first venture to show in Europe where we competed with Ridgebacks from Austria, France, Germany, Holland, Norway, Russia and England.
Saturday was the French Rhodesian Ridgeback Club Championship Show which was held "back to back" with the 2-day Pontoise Exposition Canine Internationale. Mrs. Rosemary Green (Chilolo) from Australia judged both dogs and bitches. Kip was entered in the Champion Male class and won it. As we were unfamiliar with the French FCI rules we were not aware that the CAC could only be won from the OD class so even though Kip won the CH class and competed against the OD/CAC winner to win Best Dog he did not receive the CAC. However, he rounded off the day by going BD & BOS/RBIS.
Zena competed in the largest class of the day, OB with an entry of 30. She was placed 2nd and won the RCAC.
Sunday saw us back at the same venue this time competing in the Pontoise Exposition Canine Internationale where dogs were judged by Mme Marcellot-Carbo (President of the French RR Club). Kip had been transferred from the Champion Male class to OD, which he won, and in the challenge was awarded the RCACIB. To confuse matters, as the CH class winner who beat Kip was already a French CH, Kip's RCACIB will be considered a full CACIB towards an International title. We have a lot to learn about showing in Europe! Kip was the highest placed British Ridgeback on both days.
Once again Zena was in OB, again winning 2nd place and was awarded another RCAC.
We returned home with 5 trophies, a lovely sash and fond memories of a great weekend. The host club made us most welcome and we would like to thank all those people who made our first trip to Europe so memorable.
---
KIP WINS THE HOUND GROUP AT SCOTTISH KENNEL CLUB CHAMPIONSHIP SHOW
Paul Singleton was judging Ridgebacks for the first time at Championship level and awarded Kip BD & BOB, he also awarded Zena BOS. Kip then went on to win the Hound Group outright under all-rounder Terry Thorn. His comments were: "CH Imbali Kipenzi JW, absolutely bang in form and moving and showing with a lot of panache. Well made all through, sound and very typical."
---
IMBALI KENNEL'S GREAT IRISH WEEK
Kip, Zena and Sue went to Ireland to do the "Munster Circuit" for the first time. Out of the 5 shows we attended we came away with Zena winning the Green Star and BOB at the Hound Association of Ireland and Kip winning the Green Stars at Clonmel, Killarney (both with BOB) and Limerick. This puts Kip on 36 points, just 4 short of him gaining his Irish Championship title. We gave Tralee a miss in order to go to Scotland which proved, with hindsight, to be a very good move.
---
CH IMBALI KIPENZI JW IS THE RIDGEBACK HALF-YEAR LEADER
IN THE "DOG WORLD" TOP DOGS TABLE FOR 2002
The Imbali Kennel continues to top the leader tables with Kip being the half-year leader in the Top Dogs table, his dam, Imbali Kamili Khala Top Brood Bitch and Ean and Sue Top Breeders. Kip's Group 1 win at SKC puts him on the current ProPlan Group Hound Leader board with 10 points.
---
Kip wins the Hound Group at the New Forest Show
The huge New Forest Show is held over three days in July and the Christchurch & New Forest Canine Show are part of it. Kip won Best AVNSC and then the Hound Group under Crufts BIS judge Mrs. Liz Cartledge.
---
Kip wins Best Dog at Leeds CH Show
On a really scorching day Kip won Best Dog under Mrs. E. Anne Macdonald. However, when it came to the challenge he was more interested in lapping up the sunshine than showing himself off to go BOB.
---
Kip wins CC at Windsor
Breed specialist, Mrs. J. Grimwood, judged Ridgebacks at the 2002 Windsor Championship Dog Show and geve Kip the Dog CC. This was his 4th CC win this year.
---
Kip wins reserve best dog at the Three Counties CH Show
10 June 2002 saw Mrs Cath Davis judging Ridgebacks at Championship level for the first time (no CCs) where she gave Kip reserve best dog from an entry of 39.
---
Kip wins his 7thCC and BOB at Southern Counties CH Show
3 June 2002 saw us attending the Southern Counties General Championship Show where Mrs. June Minns was judging an entry of 74 Ridgebacks. Kip won the Open Dog class and then the Dog CC. The challenge for BOB was against John Baldwin's bitch and Kip won. After a very long wait for the Group judging, Kip was shortlisted to the final 8 in the Hound Group under replacement judge Mr. Rainer Vuorinen from Finland. The scheduled judge, Mr. Rodi Hubenthal had unfortunately been taken ill prior to the show.
---
Bath CH Show - Zena wins RCC
The day after our wonderful win at the SRRA CH show, we travelled to Bath to compete at the Bath Championship show on 27 May 2002. Zena Thorn-Andrews was judging and she gave Zena the Limit Bitch class followed by the RCC. Kip was placed 3rd in the Championship Stakes by Mr. John James.
---
BIS and the "double" at the Southern Rhodesian Ridgeback Assoc CH Show
26 May 2002 is a day we will not forget in a hurry. 105 Ridgebacks were entered giving a total entry of 113 under Dutch breed specialist Jan Coppens (Jockular). Once again we did the "double" with Kip (CH Imbali Kipenzi JW) winning the Dog CC and his sister, Zena (Imbali Azizi) winning the Bitch CC from the Limit Bitch class. They then went head to head for BIS. Jan rang both dogs around the ring several times and then "up and down" before pronouncing Zena to be BIS.
---
Kip and Zena do the "Double" again in Ireland
A second visit to Ireland with Kip and Zena between 4 and 6 May 2002 saw us returning with 2 Green Stars (1 with BOB) and 3 Res GSs.
Kip and Zena both won the Res Green Stars at Fermoy Canine Club CH show, this was followed by the Imbali Kennel doing "the double" at the South Tipperary Canine Club. Kip won OD and Zena won LB with Kip going BOB and short listed in the Hound Group. Monday 6 May 2002 saw us at the Hound Assoc of Ireland CH show where Kip won the Reserve Green Star again.
---
WELKS - Kip wins RCC
On a very wet and windy Sunday (28 April 2002) we drove west to the Three Counties Showground at Malvern to show at WELKS (West of England Ladies Kennel Society Championship Show) under breed specialist Mrs. Ann Gates. Kip gained his 8th RCC. This brings his total wins to 5 CCs (4 with BOB) and 8 RCCs. He has competed at 4 CH shows in the UK this year and has one 1 CC (with BOB) and 2 RCCs and he still isn't 3 years of age.
---
CH Imbali Kipenzi JW invited to the Contest of Champions

Saturday 6 April 2002 saw the Top Winning 64 Winning Breeds together for the Contest of Champion Show Dogs which was held at a Gala dinner at the Heathrow Park Hotel, Heathrow. It was the 25th Anniversary of the Canine Supporters Charity, the room was decorated with silver balloons and a Highland Piper then piped in the huge celebration cake. As usual, the three judges for the evening were kept secret until the evening itself, they were Paula Heikkinen-Lehkonen (Finland), Monique Van Brempt (Belgium) and Allonso Thovar y Del Solar (Spain). Kip thoroughly enjoyed himself (in fact, a little too much!) and revelled in all the attention he received. It was a real pleasure to show him amongst so many other beautiful dogs, all being the top dog of their breed for 2001.
---
CH Imbali Kipenzi JW wins BIS at Herts & Essex Open Show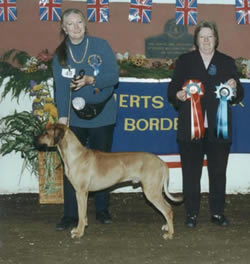 Good Friday (29 March 2002) saw Kip winning BOB at Herts & Essex Open Show under Pam Blay. He then won the Hound Group under Nick Bryce-Smith and rounded the day off by going Best in Show under Pam Blay again. This win qualifies Kip for the 2003 East Anglian Supermatch.
---
Imbali Azizi's debut in Ireland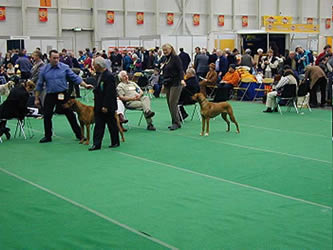 This weekend saw us take the ferry to Ireland for our first venture "overseas". The Irish Kennel Club's St. Patrick's All Breed International Championship Show was held on 16 and 17 March 2002 where Zena made her Irish debut. Unfortunately, Mr. Joao Vieira Lisboa (Portugal) was not able to fulfil his judging appointment but his replacement, Dr. S. Onishi from Japan, gave Zena the Open Bitch class followed by the Green Star, CACIB and Reserve BOB. To our delight Zena beat the current Top UK Ridgeback bitch, CH Walamadengie Conquisidor.
---
Kip wins the RCC at Crufts 2002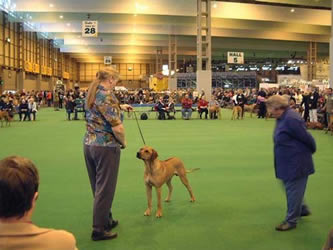 For the second year running CH Imbali Kipenzi JW came away from Crufts with the Reserve CC. Kip was shown in Open Dog where there was an entry of 22, Zena was shown in Limit Bitch with an entry of 17 and came away with a creditable 3rd place. The judge for the day was breed expert, Mrs. Pat Petford, who drew an entry of 159 Ridgebacks. This year's competition included overseas entries from Germany (2 Champions), Holland (1 Champion) and Sweden (1 Champion). Unfortunately, the Swedish bitch was not shown but we also had 2 Italian Champions exhibited who now live in the UK. Crufts is becoming an extremely interesting shows for both exhibitors and spectators as it is now drawing an entry from overseas. Time for the Imbali Kennel to try our hand at their shows. Watch this space.
Kip's progeny also had a superb Crufts repeating their success at Manchester. This time Kiromol Kiamba won both the Special Puppy Dog class and Special Junior Dog. His litter sister, Kiromol Kianga, won the Special Puppy Bitch class meaning that they came head to head again at the end of the day challenging for Best Puppy. This time it was Cane's turn to win (Kiromol Kiamba). Kiromol Kianga was also shown in the Special Junior Bitch class where she was placed 3rd, the winner of this class, Rex Ventors Farrrah at Nyassa (Imp) was the eventual Bitch CC winner and BOB. Another litter sister, Kiromol Kanzi, came 3rd in the Special Puppy Bitch class. Well done to them all.
The Bitch Reserve CC winner, Amini Sahibu, is the daughter of Sheemar Attraction who is currently in whelp to CH Imbali Kipenzi JW.
---
"Tonight Mathew I Will be..."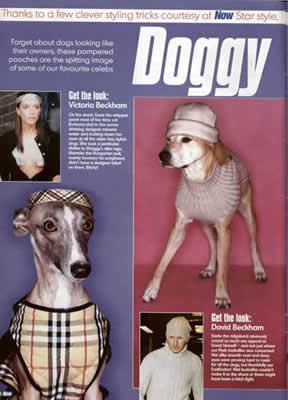 Here's Sadie's appearance, dressed up as David Beckham, in Now Magazine! Click on the picture to see a larger version.
"Get the look: David Beckham: Sadie the ridgeback obviously oozed as much sex appeal as David himself - and not just where our Posh lookalike was concerned. Her silky smooth coat and doey eyes were proving hard to resist for all the dogs, but thankfully our EastEnders' Mel lookalike couldn't make it to the shoot or there might have been a bitch fight."
---
Imbali kennel cleans up at Manchester 2002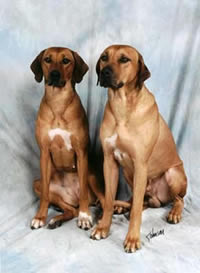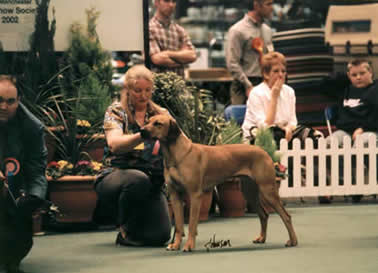 Just two days after returning from Australia, Sue fought jet lag and went to Manchester Championship show (9 Feb 2001) with Kip (CH Imbali Kipenzi JW) and Zena (Imbali Azizi). The journey certainly was worthwhile as she did the DOUBLE and won both dog and bitch CCs. It did not stop there as the puppy class winners were Kiromol Kiamba (Cane) and Kiromol Kianga (Delilah), both sired by Kip. They challenged the minor puppy winners for best puppy in sex, both winning. Delilah finally went best Puppy. It was the first time any of these dogs had been shown under the judge (Mr. Aitken Johnston) and he was totally unaware of the connection between his winners (litter brother and sister for the CCs and litter brother and sister for the Best Puppies and sired by his dog CC winner). Kip was awarded BOB and was shortlisted to the final 6 in the Hound Group under Mr. A. MacDonald. A VERY long day but a good one.